Elizabeth Davidson first performed at Festival in the Park in 2014 on the Fret Mill Gazebo Stage, a stage in which singer/songwriters can display their talents through an acoustic performance. FITP has 4 performing arts stages. Each designed for specific performances on varying levels.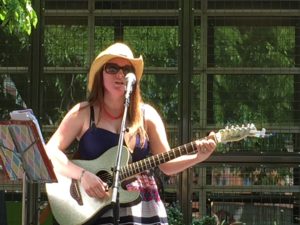 After dawning the Carol Williams Kaleidoscope Stage in 2015, Elizabeth teamed up with local guitarist Travis Holland to perform as a powerful duo on the Festival Stage in 2016. Now, for Festival 2017, Elizabeth will complete the "Festival Progression" as she and her new band, Huckleberry Clementine, take the Elmwood Park Main Stage on Saturday May 27th @ 3:30PM.
The daughter of a successful band director of 20 years, Elizabeth grew up around music. At age 12 she sang at her first wedding; by 14 she had taught herself guitar and written her first song. Since then she has written around 30 original songs and has won several competitions for both songwriting and singing. Growing up on a farm in Fincastle and inspired by the music of John Prine, Gillian Welch, the Carter Family, Patsy Cline, The Avett Brothers and many others, her style is both unique and eclectic.
 Check out this video of Elizabeth performing her original song "Undying Brotherhood" at Festival's Beer, Bands, & Billiards show in February of 2016.
  Recently Elizabeth met Brandon Ayers, an equally talented and passionate songwriter and pianist from the town of Galax, Virginia, who recently opened a law practice in Salem. Elizabeth & Brandon decided to try some music together. The unique sound between the two was immediately evident and within weeks they had already begun co-writing original music and formed the band Huckleberry Clementine. They both have very unique writing and singing styles and when combined create a sound that they like to describe as "dancing with their voices". One of their original songs, which they will debut during their performance at Festival, is titled "Roanoke". Inspired by the Star City and gives the feel of a catchy fast paced "Roanoke" anthem. Joining them on the Main Stage will be Elizabeth's father, Rex Davidson on drums, John Rardin on bass, and Frank Hatfield on lead guitar.